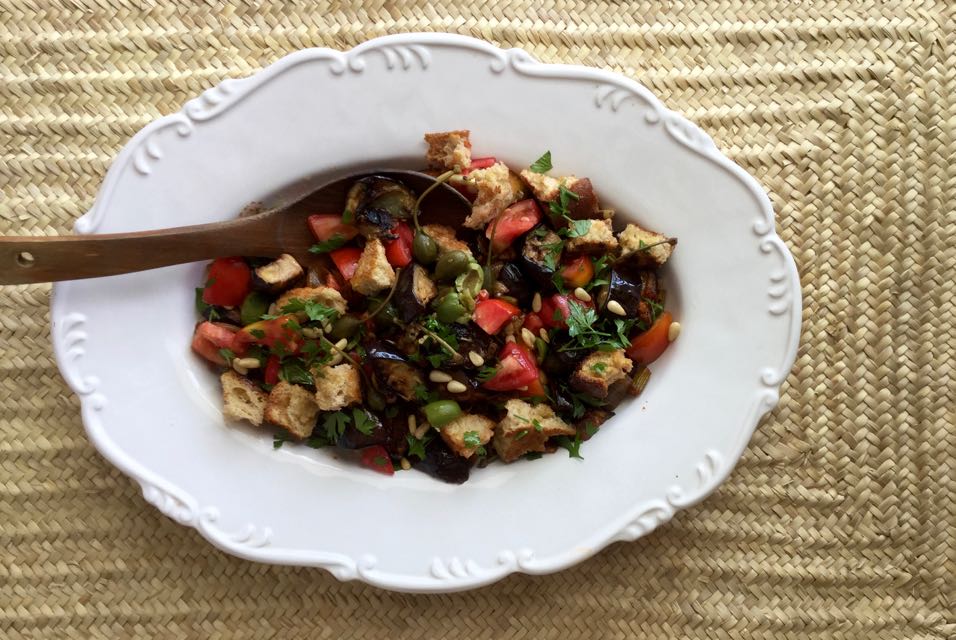 Mighty and humble at the same time, eggplant is known as the meat of the poor. One single plant usually yields six to eight pounds of fruit. It's August in the Mediterranean and the quotidians have temporarily become eggplant consultants . The plant goes mad in August and grows literally pounds and pounds of eggplants. We have family and friends calling for help: they are tired of so many eggplants and they don't know what to do with them.
Immediately we made an eggplant brainstorming:  Stuffed with mushrooms and baked? Ugh, no, it's still hot to use the oven! How about eggplant croquettes? Nooooo, deep frying, too hot! And Japanese style, charcoal grilled and glazed with miso? Nooooo, so much heat! And so we spent the afternoon until we found a solution.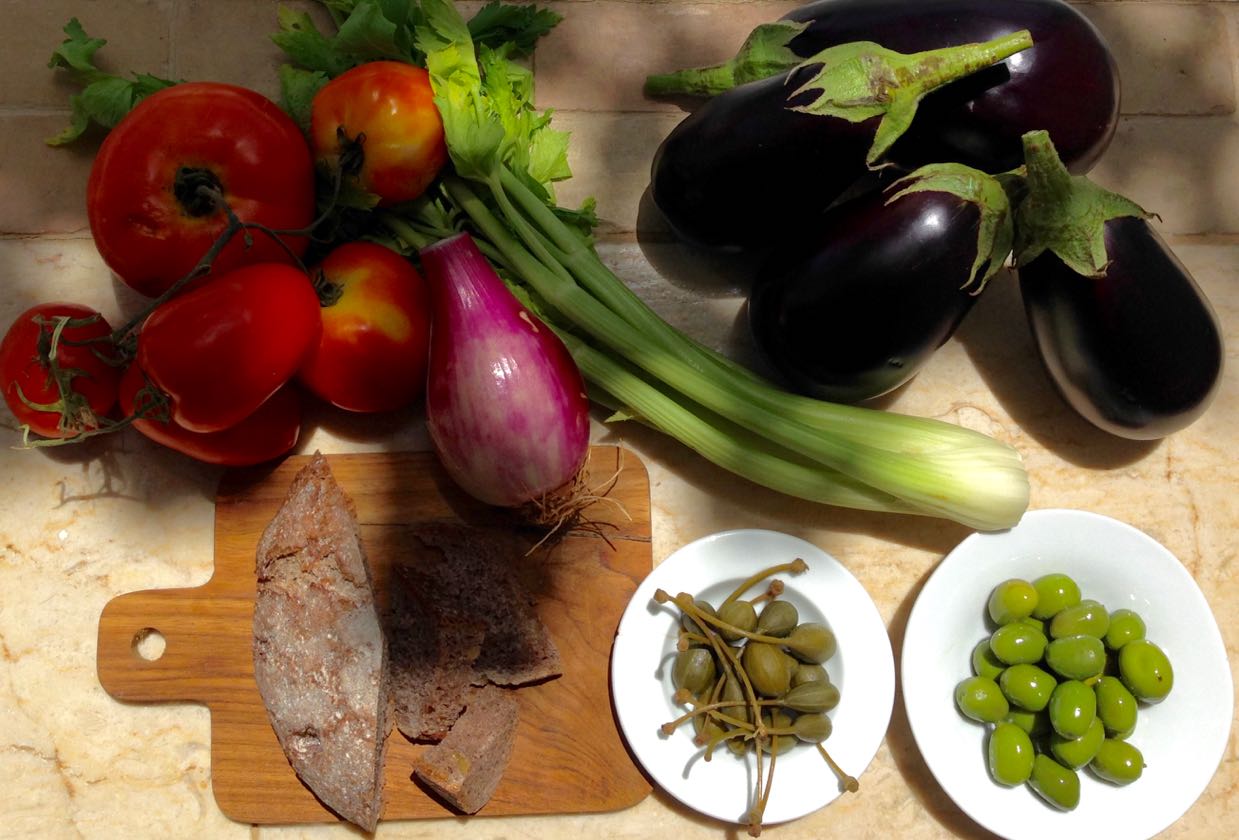 Today's recipe is a Baroque vegetable symphony, the great Sicilian Caponata: classical, refreshing and always surprising. Eggplants and tomatoes, with accents of capers, olives and pine nuts, a bittersweet touch and a good splash of olive oil, the emblem of Mediterranean cuisine. Oil, of course, that should be unadulterated Extra Virgin Olive Oil. Mmmmmm, why do we say this?
Extra Virgin Olive Oil (EVOO) is so precious that is the subject of an ongoing fraud. In November 2015 the Turin Court announced the investigation of seven major brands of Italian olive oil for fraud and misleading labeling. The international outlook is equally cumbersome. A glance at the Olive Oil Times shows countless interventions by the police in France, Spain and Italy in olive anti-fraud operations. In April 2016 the United States Congress approved the creation of a control panel for all imported olive oil as a measure to prevent fraud.
So please extreme your precautions when buying EVOO: a cheap price will hardly correspond with first cold pressed olive juice. Seek local producers, cooperatives or stores that have an interest in quality and you can trust. Get used to tasting EVOOs and discerning the real thing from the mixed ones.
Ultimately seek a label with three fundamental data: degree of acidity, never above 0.5; peroxide index (degree of oxidation), never above 20; and degree of absorption of ultraviolet radiation or index K270, never above 0.20. Unfortunately, very few EVOO producers include this information on the label.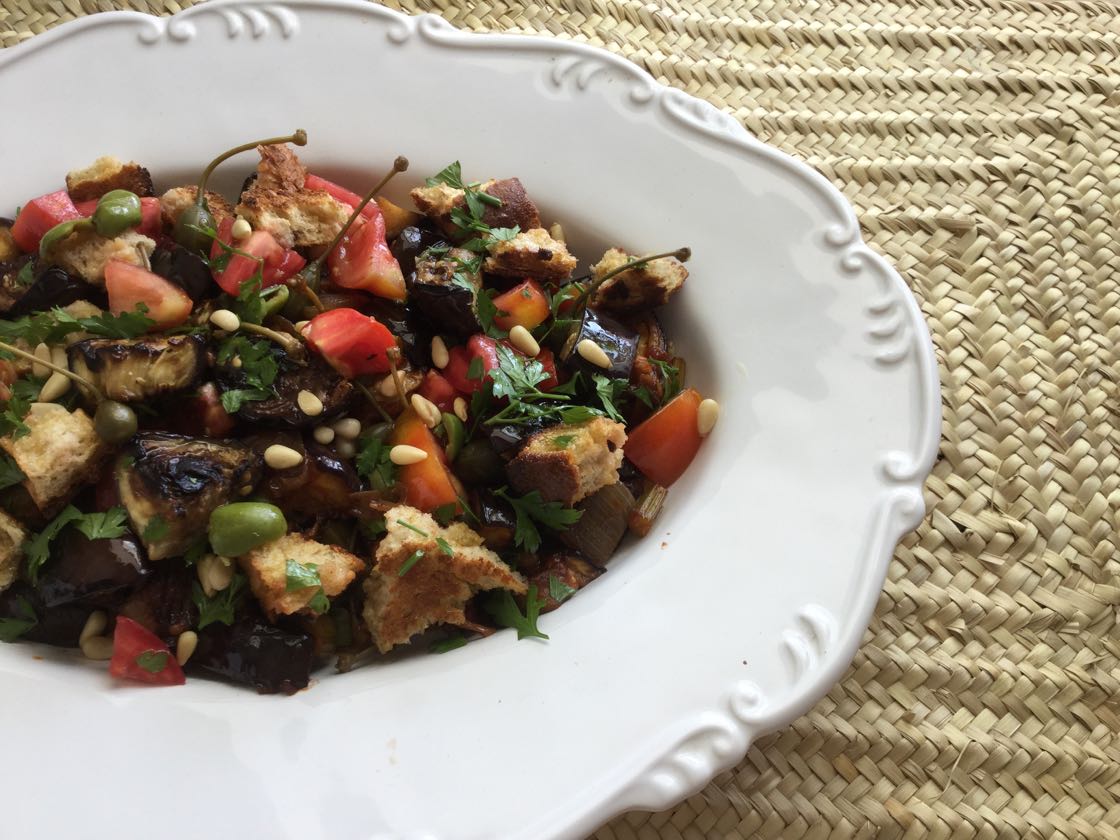 For our caponata we used a Sierra de Malaga EVOO made with olives of the Lechín variety: with aromas of herbs and leaves, intense fruity flavor of fresh olives and a spicy and bitter aftertaste. Imagine the flavors of the caponata sauce: the Mediterranean olive grove.
*Table mat handcrafted with palm tree leaves courtesy of Antonio Pelayo (La gloria in Bolonia, Spain).
Sicilian caponata
Ingredients
4 medium eggplants (about 2 lbs.), cut into ¾-inch cubes
2 celery stalks, cut into ½-inch-long pieces
1 large red onion, thinly sliced lengthwise
6 oz. pitted green olives, halved
1⁄4 cup capers, rinsed and drained
1 one-inch wide slice of spelt or rustic bread (optional)
1⁄2 cup fresh grated tomato
1⁄2 cup Xerez vinegar
2 tbsp. caster sugar
1⁄2 cup pine nuts
4 cups diced fresh tomatoes
1 Handful of chopped parsley
Extra-virgin olive oil, for drizzling
Freshly ground black pepper
Sea salt
Instructions
Place the eggplant in a colander, season liberally with salt, and toss to combine. Let the eggplant stand for 30 minutes, then rinse under cold running water until all the salt is gone. Squeeze all the moisture from the eggplant and dry them thoroughly on paper towels.
While the eggplant is sweating, toast the pine nuts on a very low flame until golden.
In a large skillet, warm the olive oil over high heat. Working in three batches, add the eggplant to the oil and fry, tossing occasionally, until dark brown all over. Using a slotted spoon, transfer the eggplant to paper towels to drain and discard all but 2 tablespoons of the olive oil.
Reduce the skillet to medium heat, add the celery and onion, and cook, stirring, until soft.
Stir in the olives and capers and cook for 2 minutes. Add the grated tomato and cook, stirring, until the paste is lightly caramelized.
Pour in the vinegar and sugar and cook, stirring, until the sugar dissolves and the vinegar almost completely evaporates.
Scrape the vegetables into a large bowl, stir in the eggplant and the pine nuts, and season the caponata with salt and pepper.
If you use the bread toast it and dice in 1 inch croutons.
In a separate bowl mix the diced tomatoes with the parsley and the toasted croutons. Season well with olive oil, pepper and salt.
Plate the caponata placing the vegetables first and adding the fresh tomatoes mixture on top.
Add some more parsley and drizzle the caponata with extra-virgin olive oil before serving.
Culinary Tips
There are as many versions of caponata as towns in Sicily. Its base are eggplants, tomatoes, capers and olives and its sweet-and-sour sauce. You can make it without celery, with peppers, almonds instead of pine nuts, etc.
To preserve the vegs flavors we have chosen to cook the ingredients separately and combine them at the end. Instead, you can fry the eggplant, reserve and prepare the dish from the fried celery and onion mix incorporating the ingredients in steps.
We add a fresh touch to the caponata by adding diced tomatoes at the end. You can cook the tomatoes if you prefer with the rest of ingredients.
Vinegar is a main ingredient in the Caponata. We have used Xerez (sherry) vinegar, for its mildness, aroma and Baroque character. You can replace it with a vinegar of your choice only if it is of an excellent quality.