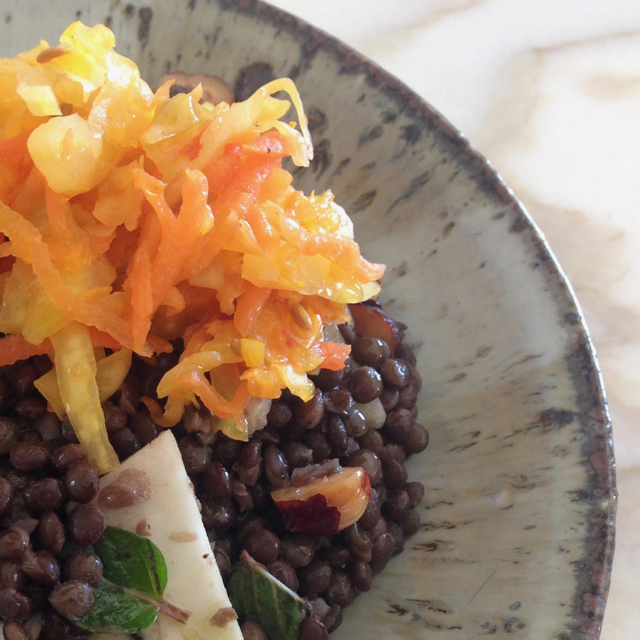 This week the quotidian cooks are so excited! We have been invited to give a workshop on fermentation in BIOCULTURA 2017 Barcelona,  the leading trade fair in organic products and healthy life. Last year the fair already set new records: 7,600 professionals, 70,000 visitors, and 18,000 indexed products.
The activities in the fair are becoming more and more interesting every year. There are so many sessions we want to recommend! We picked two: a workshop on fermented drinks, where the infalible Prabhu Sukh will teach us how to prepare a raspberry kombucha and a workshop on sustainable fish, by Peix al Plat, essential to understand the world of modern fishing and how to start consuming fish in a sustainable way. Ah, and our workshop, of course! You can see the details in the complete guide of activities in BIOCULTURA 2017 (in Spanish).

We have decided to bring a dish which represents our work quite well: an apple, fennel and turmeric sauerkraut. The recipe develops one of the great techniques within the Living Foods approach we like so much. The ingredients, apple, cabbage, fennel, ginger and turmeric make it a wonderful healthy touch to add to many dishes. The recipe allows us to explain the virtues and simplicity of fermentation at home, a culinary activism practice we are encouraging you to try.
Fermentation of vegetables at home is easy and doable. This is our message for the workshop. For those of you who will not be able to come to Biocultura, we give you the full details of the recipe, the safety techniques you have to monitor and our usual tips for the elaboration.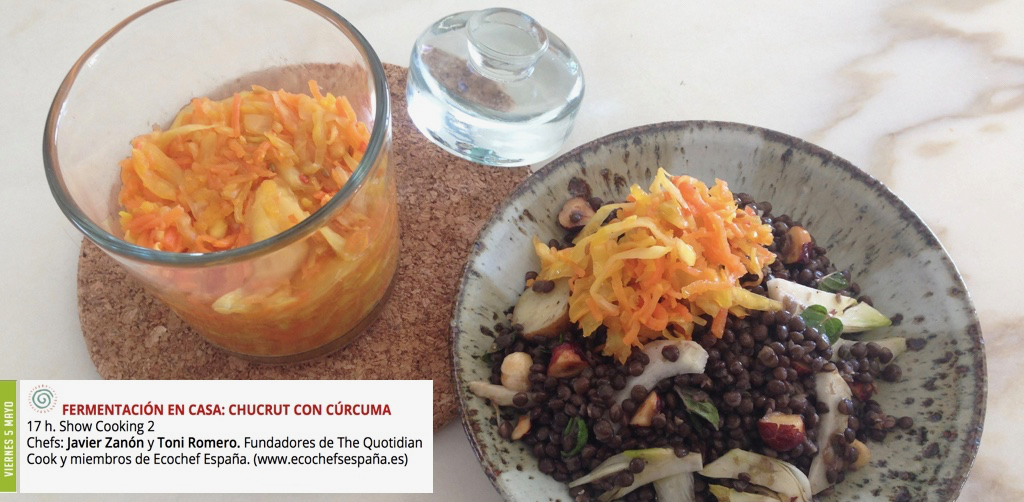 Thanks to turmeric, this sauerkraut has a palette of warm and vibrant colours. The apples and fennel add sweet and aniseed touches and ginger and cabbage provide the powerful flavour of a good sauerkraut. If you prepare it, you will eventually eat it… by the spoonful! Ah, and if you ask us about the lentil salad recipe you see in the photo, please be patient, it will be shown in a next post: Lentil salad with fennel, hazelnuts and mint.
Apple and turmeric sauerkraut
Author:
TQC (Adapted from Laura Wright)
Ingredients
1 fennel bulb, cored
1 medium sized green cabbage, quartered and cored (save the flexible outer leaves)
6 medium carrots, shredded
2 Pink lady apples, peeled, cored and shredded
2-inch (5 cm) piece of fresh ginger, peeled and finely grated
2-inch (5 cm) piece of fresh turmeric root, peeled and finely grated OR 2 teaspoons (10 mL) turmeric powder
2 teaspoons (10 mL) fennel seeds
2 teaspoons (10 mL) chili flakes (optional)
sea salt, to taste
Instructions
Cut the cabbage into quarters and cut away the heart. Slice thinly and place in a large bowl.
Clean, trim and slice very thinly the fennel bulb and add it to the bowl.
Combine shredded apple and carrots with cabbage and add grated turmeric and ginger.
Sprinkle the mix generously with salt. Use clean hands to squeeze and message the vegetables mix to release its water and create a salty brine. Taste the mixture and adjust it to your liking saltwise. Do not oversalt it.
The veggies will need to be covered in their brine to ferment so squeeze and massage thoroughly or let the mixture rest for a while to let juices release naturally, then continue squeezing and massaging until enough liquid has been released.
Pack tightly into clean glass jars using a pestle as you go so that the liquid brine covers the mix completely. If the veggies have not released enough juices to cover, add sarted water to cover— use 1 teaspoon sea salt per 1 cup water to make a solution and simply pour into the jar.
Place a round piece of cabbage leaf as a cover for the mixture packing it tightly. All of it should be covered by the brine.
Screw the lid on the jars and allow to rest in a dry out-of-the-way place for 2-10 days at room temperature. Unscrew the lid every day for the first three or four days to allow the release of gas. Taste it after five days and continue fermenting the mixture for one, two weeks or until desired tangy flavor is achieved. Then place it in the refrigerator.
Culinary Tips
The sauerkraut is more interesting with different textures in it. Try to shred and cut vegetables in different sizes.
We recommend to use silicone/culinary gloves to massage the mix, since turmeric stains hands with orange colour.
The basic safety measure is that the mixture must be covered by the liquid-brine at all times. If the vegetables have not released enough liquid to cover the mixture, add salted water in the following proportion: 1 teaspoon of marine salt in 1 cup of water, in order to make a solution and pour it in the flask.
The cabbage leaf serves as a cover for the mixture and avoids it to float above the liquid level.
After one week you can eat it and keep it in the refrigerator. The longer you leave the jars at room temperature, the stronger it will ferment, and flavours will become deeper. We recommend to taste it every week until you get it to your liking.