Have you ever been to a restaurant and ordered a dish that has been there (on the menu) for more than one hundred years? Is it possible? Possible or not, of course it is extraordinary and today we bring you one of those legendary dishes: Eggs Benedict, in our own vegetarian version.
In 1894, Lemuel Benedict, a retired Wall Street stockbroker, wandered into the Waldorf Hotel in New York hoping to find a cure for his morning hangover. He sat at the restaurant and ordered "buttered toast, poached eggs, crisp bacon, and a hooker of hollandaise". Oscar Tschirky, the maître d'hôtel, was so impressed with the dish that he put it on the breakfast and luncheon menus and substituted ham for the bacon and a toasted English muffin for the toast. The dish, Eggs Benedict, is still on its menu today (and in hundreds of restaurants) and it is the favorite choice for brunch for New Yorkers.
In this tale of the origin of Eggs Benedict (there are at least two more), nothing is said about the effects of the dish on Lemuel's hangover. Was it sided by a Bloody Mary as mandated by the brunch etiquette of today's New York?
The original dish is not precisely an example of a healthy breakfast. We created a vegetarian version leaving aside the dangerous Hollandaise sauce and any kind of industrial bread. For our Eggs Benedict we replace the bacon with wild mushrooms, render a vegan Hollandaise sauce and use artisan bread and organic eggs. It is a lovely breakfast for a lovely occasion and it deserves the details put into making it.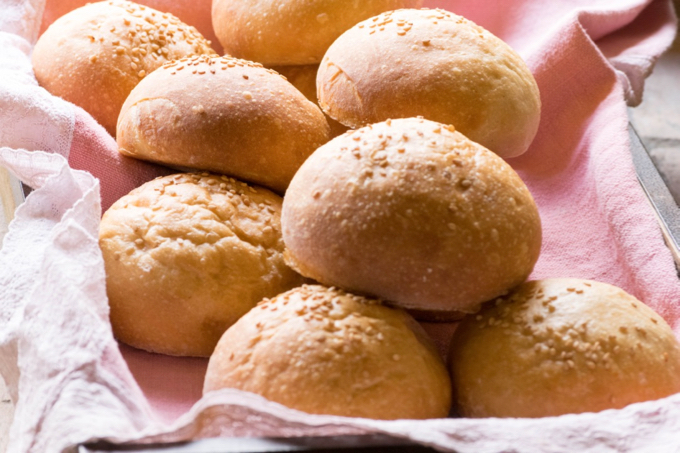 Artisan buns by  La Fogaina Bakery (Les Preses).
For this project we paid a visit to Ángel Zamora, the master baker of La Fogaina Bakery in Les Preses (Girona, Spain). Ángel is a perfectionist who works with artisan bread techniques (stone mill flours, levain and long fermentations). He cooks his breads in a wood-fire oven and, frankly, their taste and texture are from another world. We asked him to make some kind of muffins and he surprised us with these buns made with a technique called Tangzhong. The result is a type of Milk bread (but made without milk or sugar) with a sweet, milky flavor that makes an ideal base for all sorts of toppings and, of course, makes a stellar toast.
With these beauties we have plated our Eggs Benedict with V: crunchy toast, meaty wild mushrooms, scrumptious egg yolk and addictive Hollandaise sauce. Can you ask for more?
…