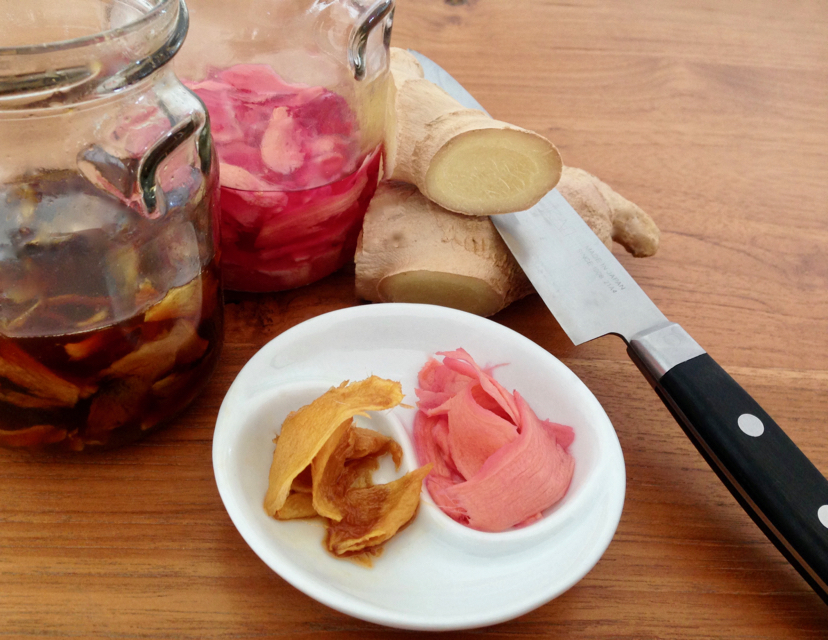 How easy is to quit coffee ? Hmmm … How about drinking it with no milk? Hmmm … Or even better,  with no sugar at all? The quotidian cooks were wondering how easy it is to remove some of our toxic daily habits. Quitting bread and processed wheat pasta, avoiding industrial beer … Hmmmm, it doesn't look so doable, right? We conducted a small survey among some of our health-oriented friends, family, fellow chefs and the answer is … nope. It is not at all easy.
For us, a much better strategy is to keep on adding food and healthy habits to our lifestyle. We believe that what we eat is much more important than what we do not eat. On this website, we invite you to incorporate healthy foods into your diet recipe after recipe.  We work to bring you delicious and attractive recipes that help you initiate a change and become more conscious about what you eat (and about what you decide to eliminate).
This week we bring you a closer look at ginger, a legendary spice that is available fresh and alive in most food stores. To discuss the benefits of eating ginger, we partnered with Andy Brunning, author of the Compound Interest website. He gave us permission to use and translate his fantastic graphic with ginger's components and properties. Andy has become the great reference for understanding the chemical processes in our everyday foods and his work Compound Interest: the curious chemistry of food and drink is one of our favorite books.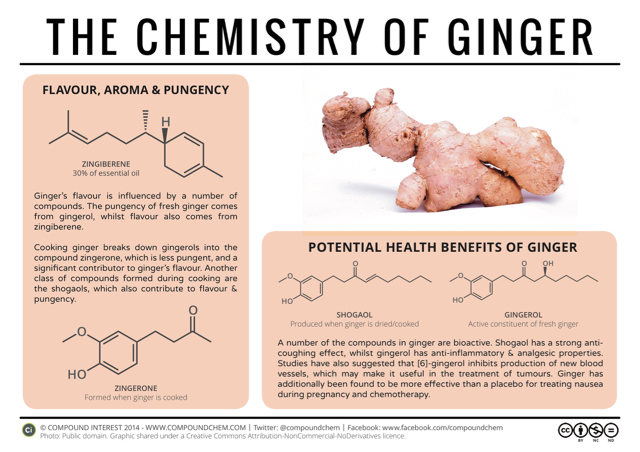 In this week's recipe we propose two ginger pickles, a pink ginger, in the traditional Japanese style and a more contemporary golden ginger. Both combine perfectly with all kinds of dishes adding flavor and pungency to your meals. The pink pickle is a version of pickled ginger used as accompaniment in oriental food and gets its color from the red beet added to the marinade. The golden pickle is a sweet version, made with honey and we love it as a sweet-and-spicy touch in our Mediterranean dishes.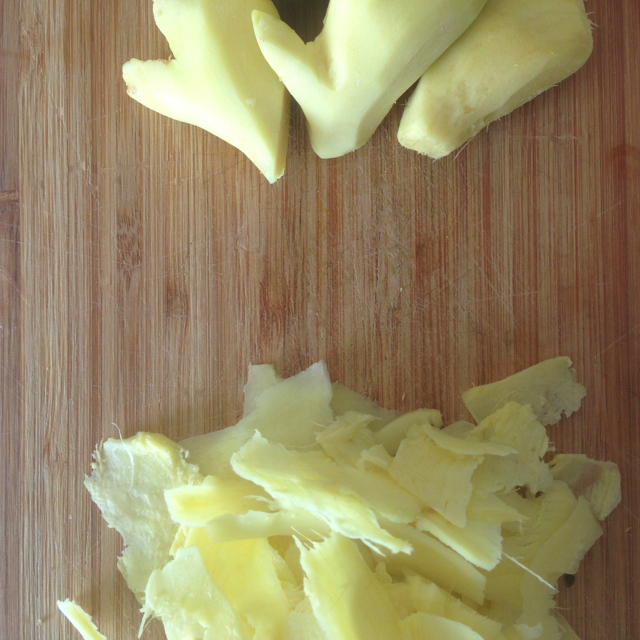 In both cases it is essential to select fresh, medium sized ginger bulbs, to peel them and to work with a sharp vegetable peeler or blade to get very thin strips. Its preparation is as simple as combining all the ingredients in a glass jar and let them marinate.
You can serve the ginger pickles accompanying dishes like our Bonito Sashimi with leeks, or the simpler Spelt Berries with Greens. Surely you know which (pink or golden) is the most suitable pickle for each of these dishes.
…