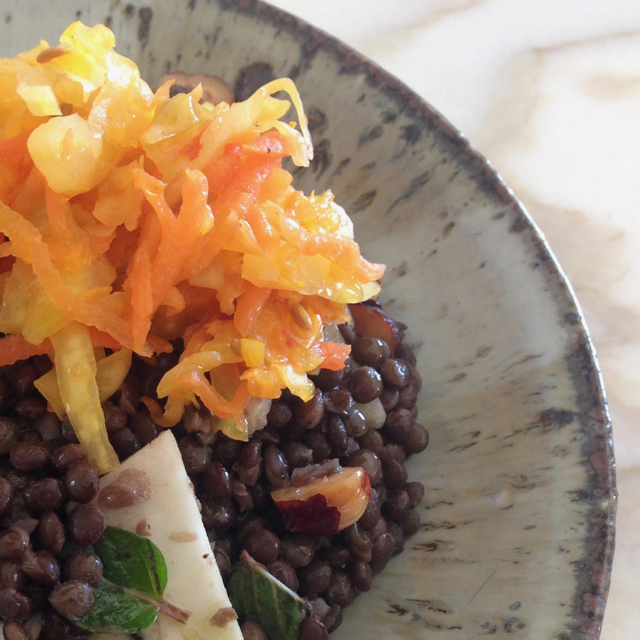 This week the quotidian cooks are so excited! We have been invited to give a workshop on fermentation in BIOCULTURA 2017 Barcelona,  the leading trade fair in organic products and healthy life. Last year the fair already set new records: 7,600 professionals, 70,000 visitors, and 18,000 indexed products.
The activities in the fair are becoming more and more interesting every year. There are so many sessions we want to recommend! We picked two: a workshop on fermented drinks, where the infalible Prabhu Sukh will teach us how to prepare a raspberry kombucha and a workshop on sustainable fish, by Peix al Plat, essential to understand the world of modern fishing and how to start consuming fish in a sustainable way. Ah, and our workshop, of course! You can see the details in the complete guide of activities in BIOCULTURA 2017 (in Spanish).

We have decided to bring a dish which represents our work quite well: an apple, fennel and turmeric sauerkraut. The recipe develops one of the great techniques within the Living Foods approach we like so much. The ingredients, apple, cabbage, fennel, ginger and turmeric make it a wonderful healthy touch to add to many dishes. The recipe allows us to explain the virtues and simplicity of fermentation at home, a culinary activism practice we are encouraging you to try.
Fermentation of vegetables at home is easy and doable. This is our message for the workshop. For those of you who will not be able to come to Biocultura, we give you the full details of the recipe, the safety techniques you have to monitor and our usual tips for the elaboration.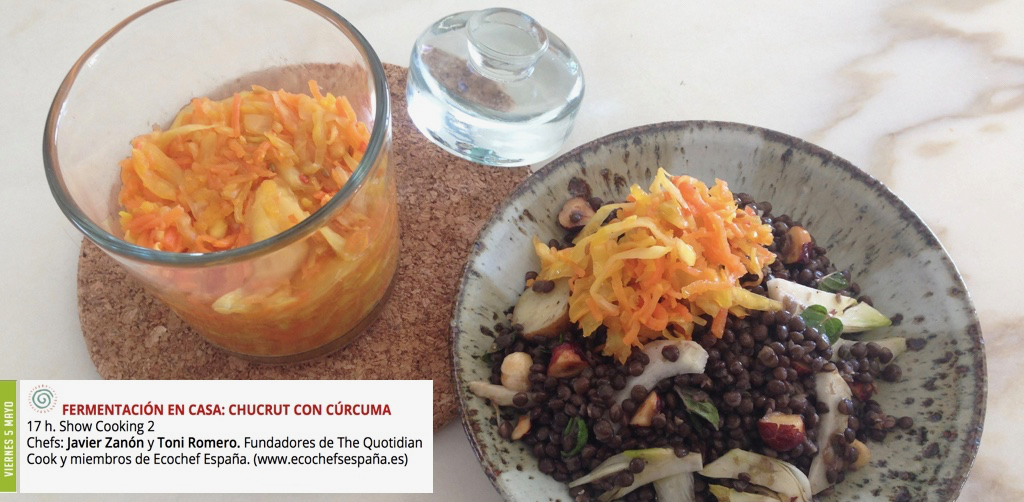 Thanks to turmeric, this sauerkraut has a palette of warm and vibrant colours. The apples and fennel add sweet and aniseed touches and ginger and cabbage provide the powerful flavour of a good sauerkraut. If you prepare it, you will eventually eat it… by the spoonful! Ah, and if you ask us about the lentil salad recipe you see in the photo, please be patient, it will be shown in a next post: Lentil salad with fennel, hazelnuts and mint.
…