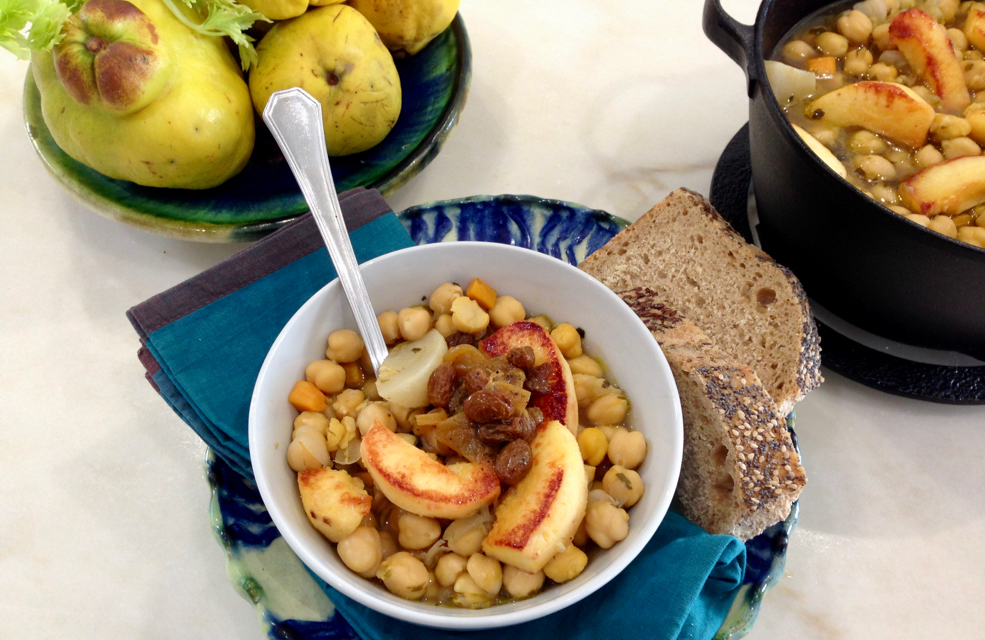 Is it possible to veganize our favorite meat-packed dishes without spoiling its essence and flavor? A few years ago, in the city market of Chefchaouen, Morocco, the quotidian cooks tasted a memorable dish, the Hargma. It is a traditional Northern stew made with chickpeas, cow meat and a strong base of species. It has a dense, spicy flavor in which cloves, cinnamon and hot chiles predominate. What surprised us in the Chefchaouen version was that the dish had stewed quinces in it. Their natural acidity, imbued with species, gave the dish a fantastic freshness and pungency.
So we decided to cook our own Hargma, this time without meat. An ideal excuse to sit down and discuss the question: how can we redesign our favorite meaty dishes in a healthier way? It is not a silly question since a bad vegetarian version of a traditional dish … well, it is better not to do it and cook something else.
A classic example of a vegan-tuned dish with no big fuss is the Spaghetti Bolognese. We replace the meat with a mixture of chopped mushrooms, plain mushrooms and portobellos for example, checking the textures, and we can easily end up with a beautiful bolognese. The opposite example would be a vegetarian paella, where everything is possible (?). After frying a sea of ​​vegetables and making the paella, we can end up with quite an edible rice with vegetables but with the Paella's distinctive flavors and textures missing. No comment.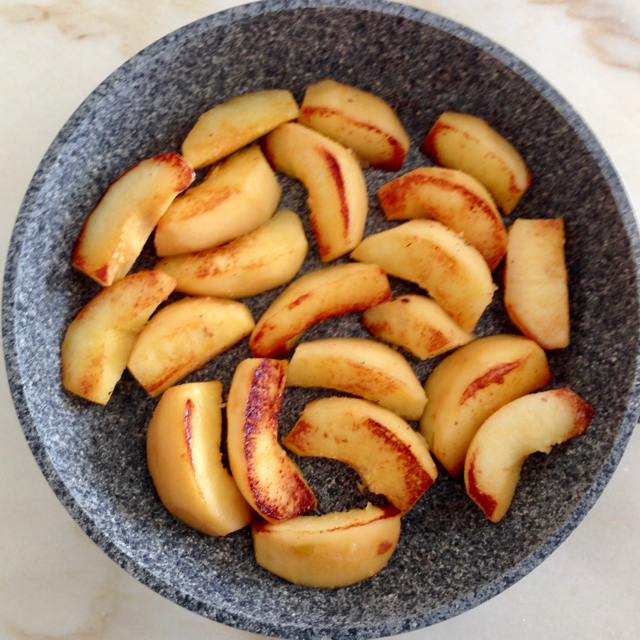 In this case, veganizing the Hargma was not very complicated thanks to the base of chickpeas, Moroccan spices and chilies, which define a clear North African stew flavor. We just highlighted the quinces as the main component (instead of the meat), cooking them until golden brown, leaving the slices tender and crispy.
Then we added Tfaya, a traditional Moroccan relish made of onions and caramelized raisins to boost the sweet-sour effect.
The result is a comfort dish, savory and light at the same time. A Maghreb-style stew, with oriental aromas brought by the quince and the sweet accents of cinnamon and raisins. A happy dish that brings us back to the origins of quince: Crete, Persia, the Hesperides, who knows …
Chickpeas with quince stew
Ingredients
CHICKPEAS AND QUINCES STEW
800 g cooked chickpeas
3 medium quinces peeled and cut into eight slices each
1 large onion (or 2 medium) julienned
1 medium turnip peeled and cut into eight pieces
1 tablespoon chopped parsley
1 tablespoon chopped cilantro
3 cloves
1 chili pepper chopped or a spoonful of dried chile flakes
1 tablespoon Ras-al-hanout
4 tablespoons EVOO olive oil
½ liter vegetable broth
Black pepper
sea ​​salt
TFAYA
2 large onions (about 1 lb.), thinly sliced
½ cup raisins, soaked in water for 15 minutes, then drained
2 tablespoons butter
2 tablespoons maple syrup
¼ teaspoon pepper
¼ teaspoon cinnamon
¼ teaspoon ginger powder (optional)
¼ teaspoon turmeric (optional)
⅛ teaspoon salt
¼ cup water
Instructions
CHICKPEAS AND QUINCES STEW
In a saucepan over low heat fry the quince wedges with a tablespoon of oil until golden brown on both sides. Set aside.
In a casserole over medium heat pour 3 tablespoons of the oil and sauté the turnip with the onion, cloves and chile until the onion starts to turn golden.
Add cilantro and parsley, stir in the mix for a minute and add the chickpeas and Ras al hanout. Shake vigorously on high heat for a couple of minutes.
Add the broth, salt and pepper to taste and simmer for 15 minutes.
Add the quince wedges on top, cover the casserole and let the stew cook for 10 minutes.
TFAYA
While the chickpeas are cooking, mix the sliced onions, raisins, spices, and syrup in a large saucepan. Add the oil and water, cover, and bring to a simmer.
Continue simmering for a half hour or longer over medium-low or low heat, stirring occasionally, until the onions are very soft and golden. Add water only if the liquids evaporate before the onions are cooked.
Once the onions are cooked and richly colored, reduce the liquids to a thick syrup.
Turn off the heat, and set the caramelized onions aside. Reheat the onions prior to serving.
When plating the stew place a good amount of the TFAYA on top of each dish.